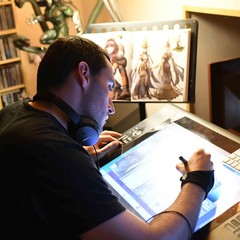 Iñaki Andonegi
Illustrator, Concept Artist, Photographer and Art Teacher
Bilbao , Spain
About
I've always been the kind of artist who believed that being an artist for the industry was unachievable. My passion for games and movies started during my childhood and since then I have never stopped dreaming to get a chance to become a professional.
While I was finishing a Bachelor 's degree in Fine Arts, I discovered digital art, so gradually I tried to improve my amateurish art into something more professional. Vancouver Animation School helped me to achieve the knowledge and skills I needed to be prepared for this kind of job. There is no better example for that than my portfolio, a sample of the work I did during the course and after.
I consider myself a hardworker and a delivered person. I also love meeting people and working with them. My biggest aim is to continue learning and improving from other artists, to be capable of meeting the expectations of my art directors.
Skills
Illustration
Concept Art
Matte Painting
Photography
Software proficiency

Maya
Photoshop